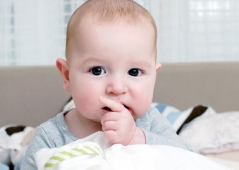 Jump to:
Bronchiolitis
01 In Brief
Bronchiolitis is a common viral chest infection that occurs in infants under the age of 12 months. It caused by Respiratory Syncytial Virus (RSV) and occurs predominantly during the winter months. It runs a typical clinical course where the infant initially becomes progressively worse over 3 to 4 days, with a runny nose and fever followed by the development of a cough and rapid wheezy breathing. There is no specific treatment and the infection needs to run its course. Babies often become tired and feeds need to be given more frequently. Some babies require admission to hospital if they are having problems breathing or feeding, where they can be given oxygen and extra fluids. It is not uncommon for the wheeze and cough to persist for two to four weeks after the initial infection.
02 What Others Say
Royal Children's Hospital Melbourne fact sheet kids health info to parents
RCH Bronchiolitis
The Children's Hospital at Westmead fact sheet
Westmead Bronchiolitis
03 I Want To Know More
Up-to-date parent information
Bronchiolitis and the RSV in infants and children
Cincinnati Children's Hospital medical centre
Infants with bronchiolitis often have obstructed nasal passages and suctioning could often assist with feeding. Cincinnati Children's Hospital has a fact sheet. You can either make your own saline or salt water drops will purchase commercially prepared ones from the local pharmacy.
Link to Suctioning the nose with a bulb syringe
04 Clinicians Tools and Resources
Cochrane Review: Plain Language Summary
Antibiotics for bronchiolitis in Children
Starship Children's Hospital Clinical Guideline
US site National guideline clearinghouse:Discusses prevention and transmission, physical examination, diagnostic testing, pharmacological treatment, nonpharmacological therapy, and discharge criteria.
Prevention, diagnosis and treatment of paediatric bronchiolitis
Last updated: 18/02/2011
05 Feedback: Help Us Provide The Best