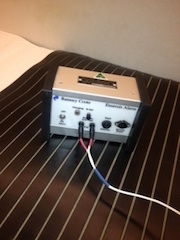 Continence services: day and night wetting, soiling and toileting.
Whether it is a problem with day time or bed wetting, constipation, soiling or toilet refusal we have the experience and expertise to help. Find out more
Dr Liz works with the Allergy team at the Royal Childrens Hospital and is trained in allergy assessment and management including skin prick testing. She is pleased to be able to offer timely access to these services at Flourish Paediatrics.
She can help with advice about anaphylaxsis and Epipens.
Assessment of IgE or immediate food allergy: including the top 9 food allergens: egg, peanut, tree nuts, wheat, cows milk, soy, sesame, fish and seafood. Other foods can also be tested and if an extract is not available then fresh food is used.
Allergic rhinitis or hay fever, asthma and eczema are also special interests.